NEWS
18.05.2023
VSSL Studio launches FACET: A Series of Exhibitions Showcasing Contemporary Queer Art & Culture
FACET is an innovative programme of visual art dedicated to the exploration and celebration of contemporary queer art & culture. Through a series of five exhibitions, FACET establishes a platform for invited artists to centre their unique perspectives while fostering greater understanding of various queer experience, through a diverse range of artistic mediums. Featuring exhibitions from: Alicia Radage + Benjamin Sebastian, June Lam, Rocio Boliver and Marcin Gawin - as well as a dynamic group exhibition.

Queer art has historically defied traditional boundaries and categories, often using interdisciplinary approaches that challenge established norms and conventions. It is an art form that speaks to and from queer experiences and their' communities - by exploring themes of identity, gender, sexuality and the intersections between them.

Initiating the FACET programme is a joint exhibition by Alicia Radage and Benjamin Sebastian, two London based artists whose collaboration sets the tone for the entire programme.

The exhibition will take place at VSSL studio, Enclave, 50 Resolution Way, Deptford, London, SE8 4AL.

Opening hours: 1 - 15 June, Thursday - Sundays 12:00 - 17:00

Launch Event: Friday 2 June 18:00 - 21:00 RSVP
---
26.01.2023
Event at Lake on the 4 February: ACT III -The Prototype - Artist's Talk and Live Sound Performance
lake invites you to an artist's talk, followed by a live intervention that will transform the current installation of The Prototype into a meta-instrument using field recordings, contact mics, tape loops and a spatial sound environment. In this closing event to the exhibition, publishers Folium will interact with the installation and perform an improvised sound piece in response to the work.

The current installation is a new adaptation of Eugenie Shinkle and Callum Beaney's collaborative work The Prototype – a project that explores photographic abstraction alongside the affinities between sound and vision. Originally exhibited in 2021, The Prototype was subsequently made into a book designed and published by London-based imprint Folium, and released in September 2022. Both the original work and the book are inspired by the chaotic and abrasive sounds of noise music. lake's response – which uses sculpture, computer vision, and noise-based algorithms – reconstructs the book's artefacts into an immersive installation.

Artist's talk 18:00-19:00
Live performance 19:15 onwards
Enclave 5, 50 Resolution Way, Deptford, London, SE8 4AL
---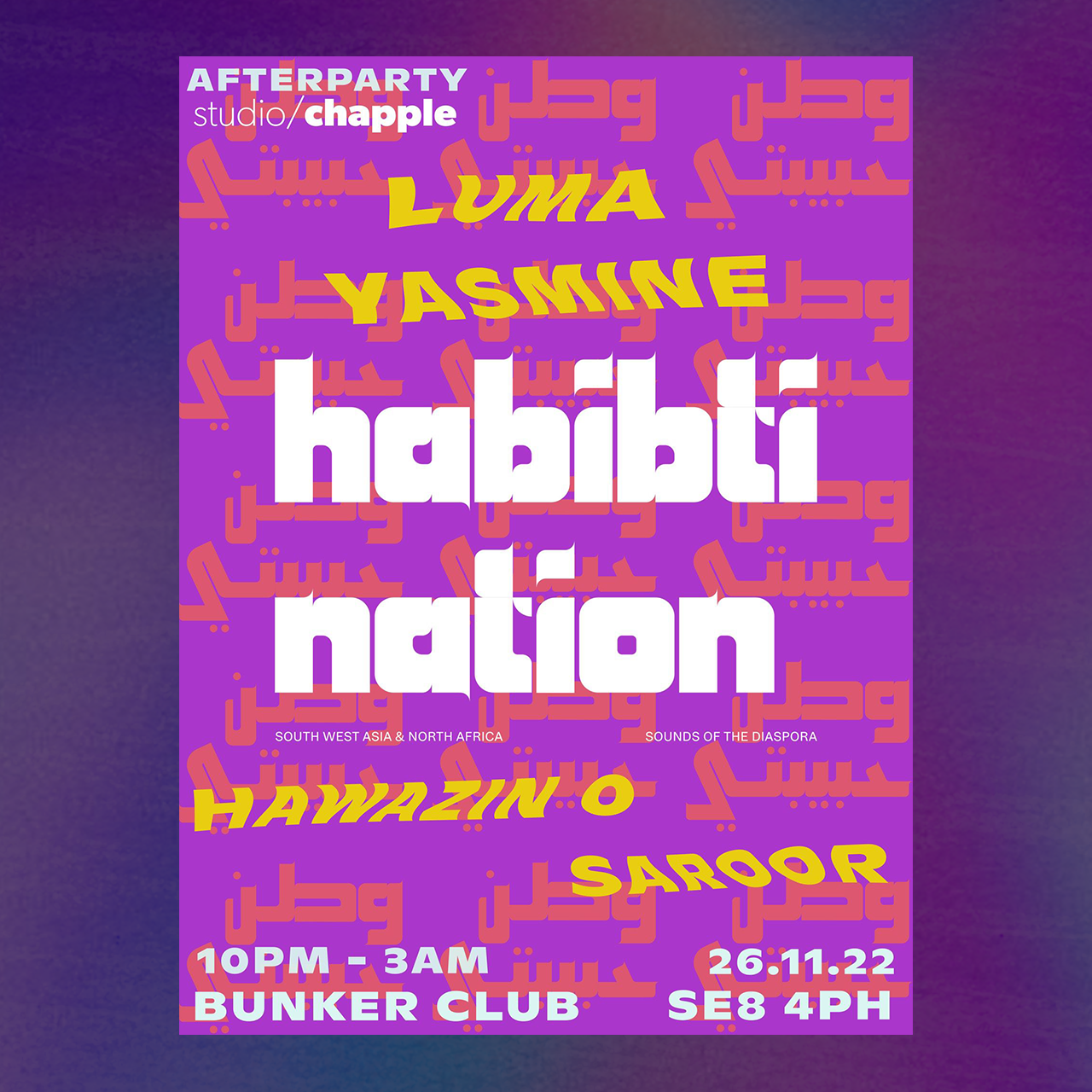 studio/chapple's first exhibition at Enclave opens 26 November
New to Enclave, studio/chapple opens with their first exhibition 'In the green escape of my palace', a group show featuring work from Alia Hamaoui, Hawazin Alotaibi, Shamiran Istifan, Zein Majali.
Join them for their private view on the 26th November 5-10pm, followed by an after party at Bunker.

The exhibition continues until 15 December.

Enclave 7, 50 Resolution Way, Deptford, London, SE8 4AL

---
Lake launches at Enclave
A new project has moved into Enclave 5. Lake is a centre for the creation of collaborative multi-sensory works for a public wishing to explore the connections between varied creative practices. Lake produces experiences of sound, image, and space in the form of installations, readings, talks, performances, and workshops to share the dialogue and knowledge created through the interconnecting of disciplines. Much like the space a lake occupies ecologically, supporting life around and beneath its transparent surface. Lake is a place to incubate and to clearly observe ideas grow which explore the collaborative process between varied creative practices.

Founded by Nishant Shukla & James Wilkie

Join them for the private view of their opening exhibition कोई है/Koi hain/Is anybody there? on the 5 November 6-9pm.

@lake.space

Enclave 5, 50 Resolution Way, London, SE8 4AL


---
23.10.2022
Ramzi Mallat <<means to no end>>
Join Danuser & Ramirez this Thursday 27 October 6-9pm, for the opening of Ramzi Mallat <<means to no ends >>.

Exhibition continues:
27 October until the 6 November 2022
Friday/Saturday, 1-6pm
and by appointment.

@ramzimallatstudio
@danuseramirez

Enclave 7, 50 Resolution Way, London, SE8 4AL
---

Enclave Supports Deptford X 2022
Deptford X 2022 Festival will be occupying Enclave 5 with a solo show from Nnena Kalu - one of their major commissioned festival projects - between 16 - 25 September 2022. Enclave happily offers their support to Deptford X by providing a complimentary space to show this work.

The exhibition will be open to the public Friday 16 September 6-9pm, Saturday 17 - Sunday 25 September (closed Monday 19 September).

More information about Deptford X Festival can be found here: https://deptfordx.org/deptford-x-2022/
---
14.09.2022
Enclave Relaunch

Enclave relaunches with a reinvigorated outlook, mission and website.

The Enclave project will continue to act as a test bed for new curatorial projects and creative organisations, supporting them in the early stages of their development, by providing low-cost physical space, a peer network, knowledge sharing opportunities and shared audiences; with ten rolling Enclave spaces, housing temporary, mid-term and long-term projects.

Our key aims and values:



Further build and maintain the thriving arts community within Deptford and Lewisham, by providing a hub of vibrant and relevant arts activity in the centre of Deptford.




Support young curators, artists, collectives and organisations through subsidised below market rent, and funded pop-up opportunies.




Offering an alternative model to the increasing cost of commercial renting, creating a unique opportunity for young projects and non-profits to develop and and thrive.




Championing experimental, critical, ambitious and relevant projects, with attention given to non-profit, DIY, radical and artist-led organisations and galleries who deliver projects that make a difference to the local community and wider arts sector.





Give back to the local area by providing a welcoming environment for the local community and helping grow the appreciation of Lewisham as an important arts location, communicating projects widely and bringing visitors to the borough.




Maintain a sustainble, long-term environment for emerging curators, artists and creative organisations.
---